Welcome to the home of the "STURTMOOR" Smooth Collie Show Team !
STURTMOOR DREAM OF KASVELYN
WINS HIS CROWNING CC AT BRITISH COLLIE 4TH MARCH 2017
Well done to Dee and family for him getting his champion title
(subject to KC confirmation)
and thankyou to CP Fricke for awarding him the Dog CC that gave him his title.
CEA n/n Clear CN n/n Clear DM n/n Clear prcd-PRA n/n Clear MDR1 M1/M1 Affected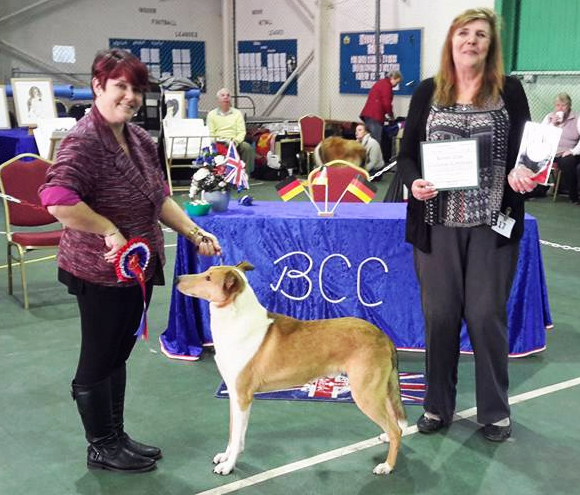 STURTMOOR DREAMS OF KASVELYN
SMOOTH COLLIE OF THE YEAR 2016
WELL DONE TO DEE, NIGEL AND FAMILY FOR TAKING SUCH GOOD CARE OF BUDDY. ALSO THANK YOU TO THE JUDGES WHO THOUGHT SO HIGHLY OF THIS SPECIAL BOY, ISOBEL GRIFFITHS, JOAN FRYER-CLARK AND PAM BLAY. WELL DONE TO TREVOR AND BIRGIT ON WINNING RUNNER UP WITH THEIR GORGEOUS GIRL PETRA.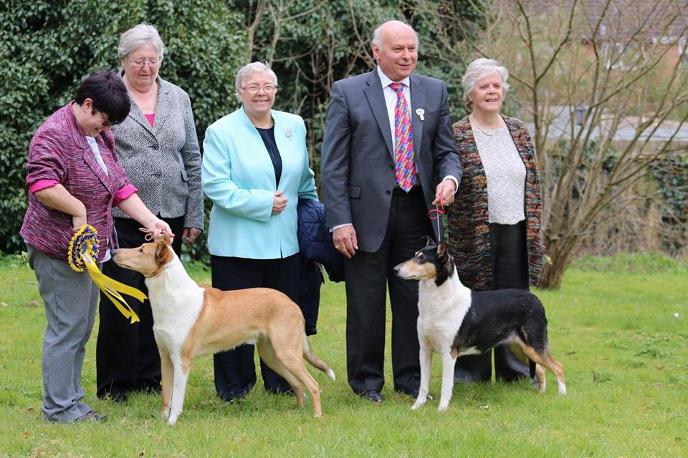 LONDON COLLIE CH - 12th JUNE 2016
Dog CC, BOS, RBOB under Fran Kaye and BOS In Show under Miranda Blake who gave us the following fantastic Critique...

" A very promising young sable. Very well balanced all through, with correct ears and a pleasing expression. I would like to see him when his head and body have filled out and finished - he should make a magnificent mature dog. He beat the rough ; Mr & Mrs Congdon 's Monsolana Sundevon for Aaronwell (Imp Russia) with his sounder movement, more balanced head and lip line".
Thanks to both judges for thinking so highly of our boy!
(Buddy pictured below with myself and owner Dee Cole)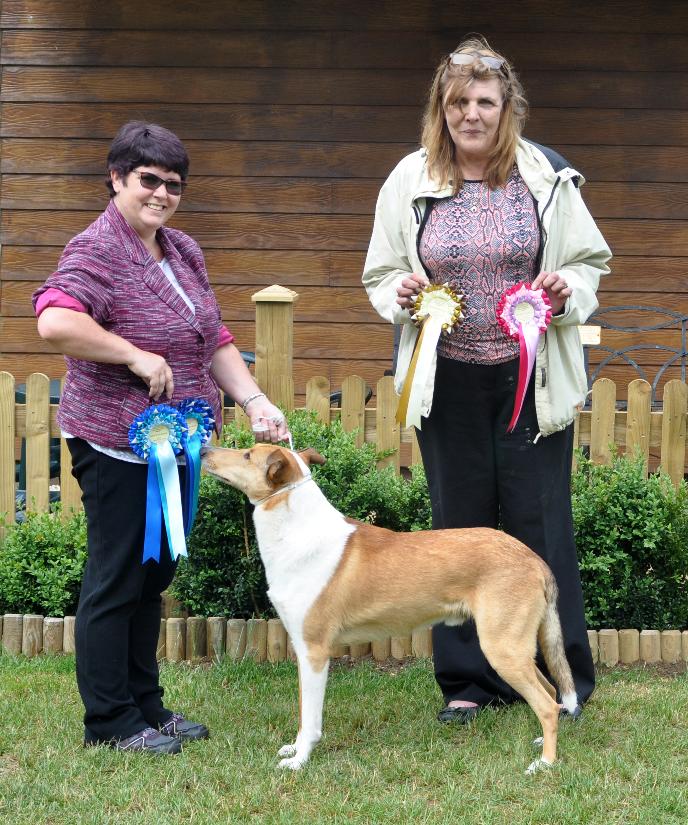 STURTMOOR HAVE ACHIEVED THE FOLLOWING WINS AT CHAMP SHOW LEVEL
(along with group shortlistings)
SMOOTH COLLIE OF THE YEAR 2016
4 x CC's 4 x RES CC's!

2 x Best of Breeds 3 x Reserve Best of Breeds

DOG CC, RBOB, BOS, BEST OPPOSITE SEX IN SHOW - LONDON COLLIE CH
BOB, BEST DOG & RES BEST BITCH - 3 COUNTIES CH
BEST DOG & RES BEST BITCH - WK & PAST BREEDS OF WALES CH
BEST DOG, RES BEST DOG & RES BEST BITCH - COLLIE CLUB OF WALES CH
BOB, DOG CC - MANCHESTER CH

RBOB, DOG CC - LONDON COLLIE CH
OUR DOGS TOP PUPPY 2015
3rd P/GROUP AT NATIONAL WORKING AND PASTORAL BREEDS 2015,
4th P/GROUP AT SWKA AND WINDSOR 2015
5 x BEST DOG & 6 x RES BEST DOG
BEST PUPPY IN SHOW AT WECS Ch , LONDON & PROVINCIAL Ch and LONDON COLLIE Ch in 2015
9 x BEST PUPPY IN BREEDS 9 x BEST PUPPY DOG & 5 x BEST PUPPY BITCH
(they have also had multiple placings in adult/puppy groups as well as bob/bp/avnsc wins at open shows).
WISHING THE LITTER ALL THE SUCCESS FOR the remainder of 2017 !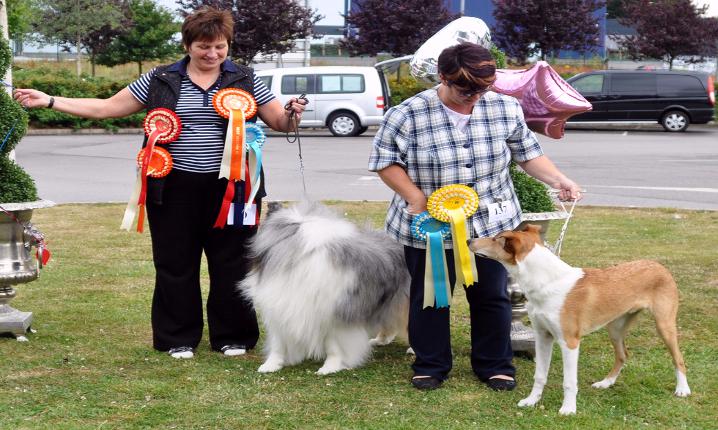 "STURTMOOR KHAOS OF KASWYN" aka CYAN TAKES BEST PUPPY IN SHOW AT WEST OF ENGLAND COLLIE CHAMP SHOW 2015!
"STURTMOOR DREAMS OF KASVELYN" TAKES 3RD IN PUPPY GROUP AT NATIONAL WORKING & PASTORAL BREEDS 2015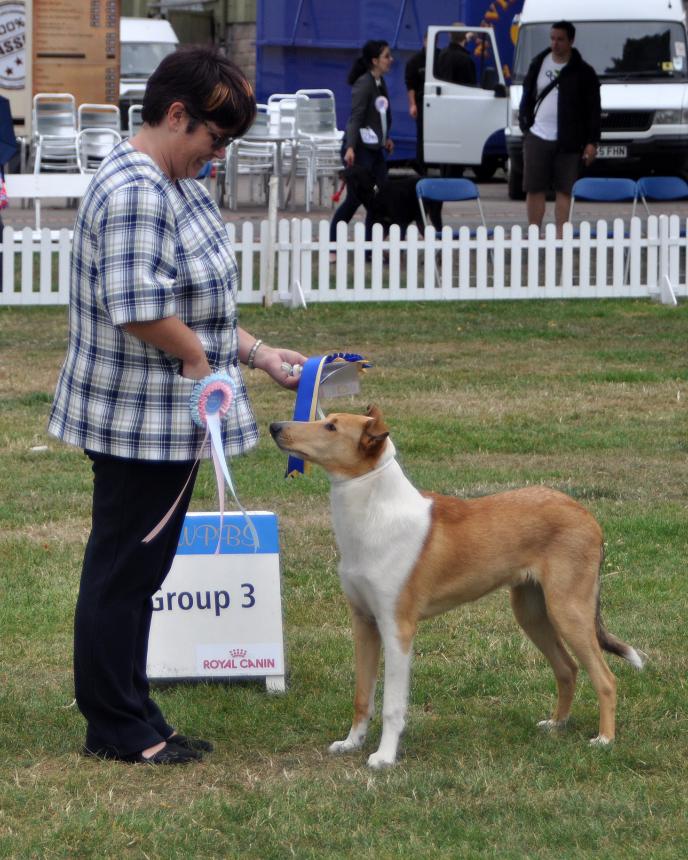 PG3 WAS THE SMOOTH COLLIE, A BREED WHICH I HAVE FOUND DIFFICULT IN THE PAST BUT STURTMOOR DREAM OF KASVELYN WAS SO NEAT & WELL BALANCED WITH MOST PLEASING HEAD PROPORTIONS & HE MOVED OUT SO TIDILY THAT HE COULD NOT BE OVERLOOKED - PAMELA JEANS-BROWN
"STURTMOOR KHAOS OF KASWYN" CYAN WINS 4TH IN THE PUPPY GROUP AT WINDSOR CHAMP SHOW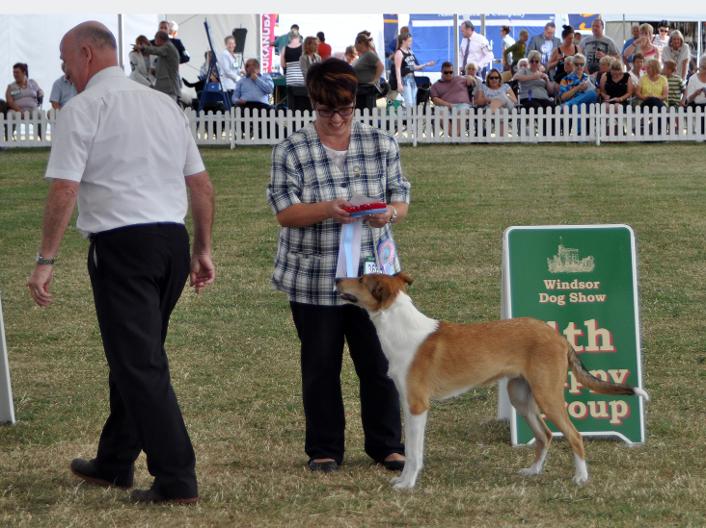 Thanks to judge Lisa Petit for giving us Best Puppy and to Paul Eardsley for thinking so highly of him and placing him him 4th in the puppy group.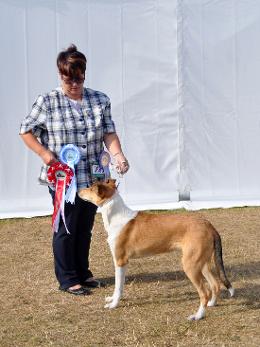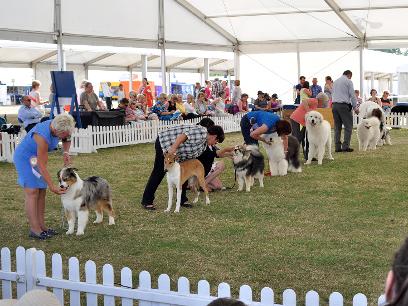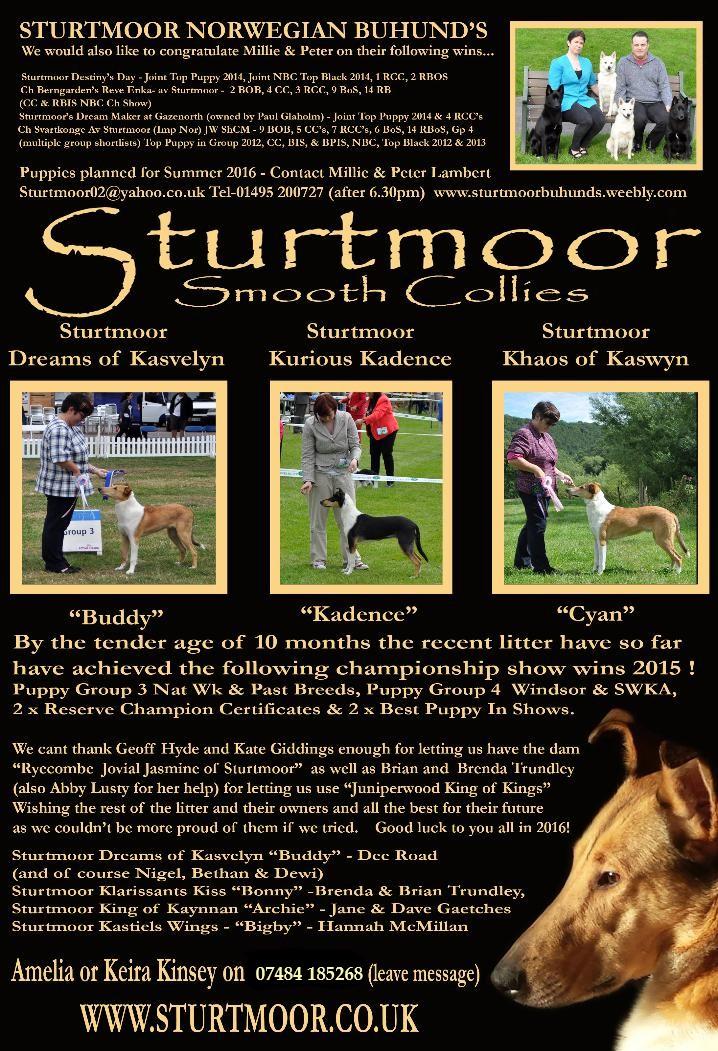 Yaz & Herbies litter arrived on the 13th December 2014 visit the puppy page for details, photos and videos. Photo below was taken at 6 days old.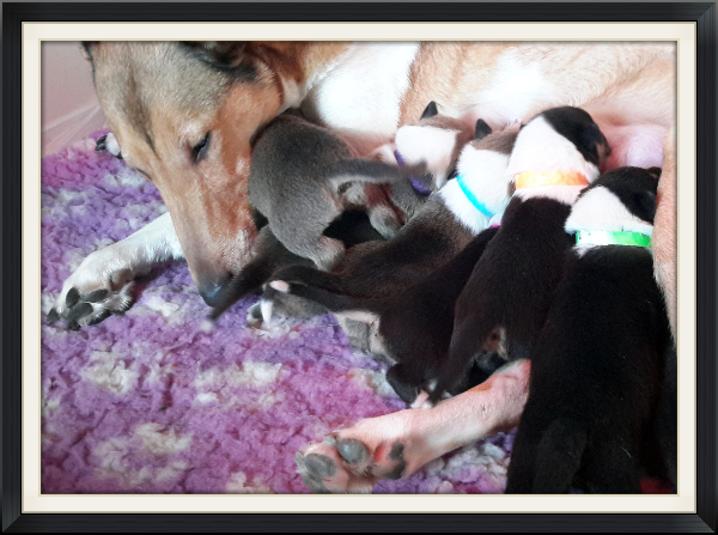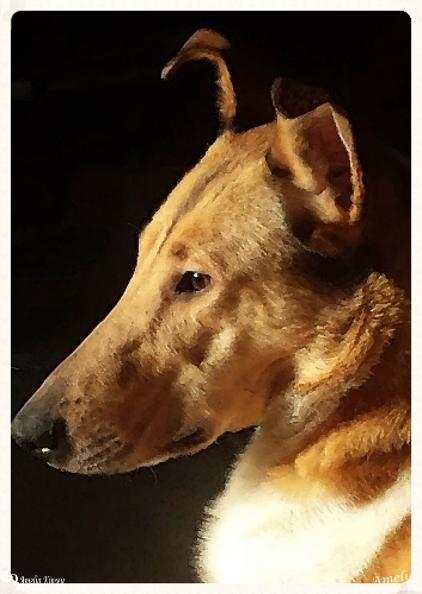 Information on our current and past dogs spanning decades of my family's involvement with the canine world.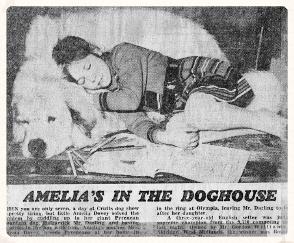 This is where you can follow the show results and news of Sturtmoor lines. Currently we are campaigning our young bitch "Ryecombe Jovial Jasmine of Sturtmoor, Yaz" (pictured opposite) and with good results so far. Keep an eye for news in the blog area.
STURTMOOR SHOW DOGS HAVE SPANNED DECADES IN THE RING BEING SHOWN BY THE FAMILY IN SEVERAL BREEDS. ALTHOUGH STURTMOOR IS MOSTLY KNOWN FOR THE FIRST KENNELS OF ESTRELA MOUNTAIN DOGS IN THE UK IN 1974, EACH OF US HAVE OUR OWN BREEDS UNDER SEPERATE INTERESTS.
MY OWN CONTRIBUTION TO THE SHOW TEAM HAS CONSITED OF SMOOTH COLLIES, CARDIGAN CORGIS (AND MANY YEARS AGO FLATCOATED RETRIEVERS). I NOWADAYS ONLY SHOW SMOOTH COLLIES AFTER A RETURN TO THE RING AFTER BATTLING AGAINST CANCER, AND IT FEELS FABULOUS TO BE BACK AMONG MY CANINE FRIENDS DOING WHAT I LOVE. A HUGE THANKS TO DELIA MOORES AND ABBY LUSTY FOR THE CONFIDENCE BOOST AND ENCOURAGEMENT TO GET BACK INTO A BREED I ADORE AFTER I LOST MY BOY KODY.


Images by amelia -
The photography side of sturtmoor
Your important moments saved in your choice of image!
Below is an example of the "Crystal Clear" photography collection below are examples of the type of images produced by myself either from my own photos or photographs supplied by you to create your ideal image. You have input through out the process to make sure the image is as close to perfect for the occasion as I can get.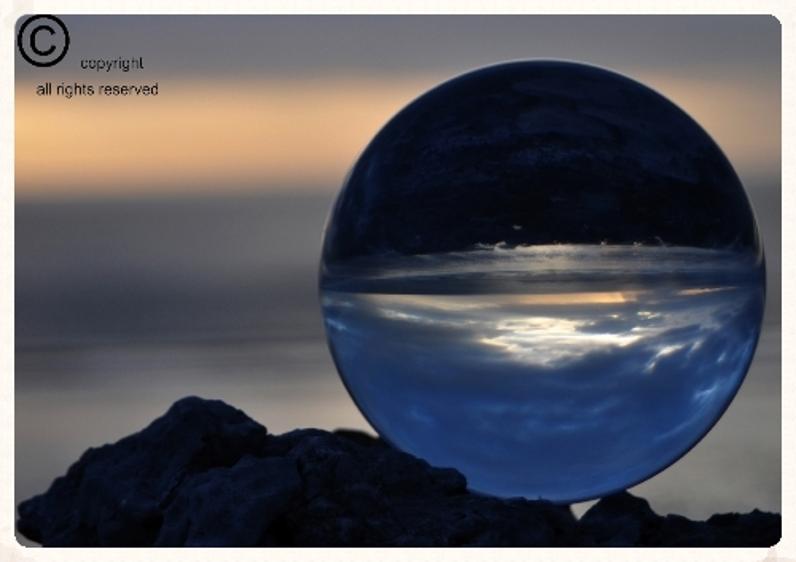 HIDDEN IN THESE PAGES ARE A JOURNEY OF POSSIBILITIES. AN AFFORDABLE WAY TO PRODUCE A FABULOUS PRINT WITH A DIFFERENCE. FOR A LOVED ONE, COLLEAGUE OR JUST a valued CUSTOMER.
THERE ARE MANY WAYS OF CHANGING YOUR PHOTOGRAPHS INTO AN FANTASTIC KEEPSAKE FROM A SIMPLE WATER COLOUR EFFECT TO THE MORE INTRICATE TYPOGRAPHY IMAGES WITH LAYER UPON LAYER OF DETAILS.
I UNDERSTAND THE NECESSITY OF MAKING THE CLIENTS WISHES MY MAIN AIM AND THE IMPORTANCE OF MINUSCULE DETAILS THAT GET THE DESIRED OUTCOME.
TAKING THE TIME TO COMPLETE THE PROJECTS REGARDLESS OF THE CONDITIONS AROUND ME WITH THIS IN MIND, YOU MAY FEEL THAT GETTING THE PHOTOGRAPH IN THE FIRST PLACE CAN BE DIFFICULT (ESPECIALLY OF YOUR BELOVED PETS AND CHILDREN AS THEY TEND TO FIDGET WHEN OUTSIDE). ON THESE OCCASION, OR IF YOU JUST WANT SOME NICE PHOTOS I CAN DO THESE FOR YOU ON ARRANGEMENT.
I SPECIALISE IN CANINE, MOTORSPORT, NATURE, WILDLIFE AND LANDSCAPES BUT I AM ALWAYS WILLING TO GIVE ANYTHING A TRY IF YOU HAVE SOMETHING IN MIND OR AN OUTDOOR EVENT YOU HAVE PLANNED.

I DO NOT TEND TO DO STUDIO WORK FOR ONE SIMPLE REASON...
I DO NOT HAVE A STUDIO & I HATE BEING INSIDE LOL !!!!! BUT I KNOW THAT WITH THE CURRENT CLIMATE INDOORS IS A NECESSITY FOR SOME EVENTS.
YOU MAY HAVE ALSO NOTICED THAT I DO NOT TEND TO DO WEDDINGS AS I CAN NOT PLAN IN ADVANCE FOR THAT LENGTH OF TIME DUE TO WORK SCHEDULES BEING FLEXIBLE AS I DEAL WITH THE WEATHER CONSTANTLY INTERFERING WITH EXTERIOR SHOOTS.
FEEL FREE TO LOOK THROUGH THE SITE FOR A JOURNEY THROUGH MY DIFFERENT GALLERIES AND IF YOU WOULD LIKE TO JUST BUY AN IMAGE FOR SOMEONE SPECIAL OR JUST TO CELEBRATE AN OCCASION LET ME KNOW ALL
IMAGES ARE AVAILABLE IN A4 AND A3 AND START FROM AS LITTLE AS £10.
IF YOU HAVE ANY QUESTIONS ABOUT COMMISSIONS OR ORDERING ONLINE IMAGES
PLEASE CONTACT US.
Join me on my Facebook Group to message myself and other members to find out more about my previous, present or planned future events. As well as watching the News & Events page for updates on this site.